Non-Elastic Boy Bands
prices start at $8.95

$8.95 – $29.92
Since 2003, our ORIGINAL boy belly bands are the BEST quality, longest lasting dog housebreaking bands available. Use with a disposable sanitary or incontinence pad to keep your home urine-free. We also offer bands with built-in washable pads and waterproof liners. (Please note that fabrics might be a bit different than pictured due to availability during covid19 shortages.) Question about what size you ordered last time? Text us: 602 485 5490
Please read below about our types of bands & measuring instructions before ordering.
Measuring Instructions
We offer the BEST quality USA made non-elastic belly bands. Add a disposable sanitary or incontinence pad. Bands can be ordered with or without a waterproof liner and built-in absorbent pad. Questions? Text us: 602 485 5490
BOY DOG MEASURING INSTRUCTIONS
Wrap a measuring tape around the MIDDLE of your boy dog's tummy; over his private parts that the belly band needs to cover. Pull the tape snug, but not too tight. This is your boy dog's waist measurement. THE SIZES LISTED in the drop down boxes ARE YOUR DOG'S WAIST MEASUREMENT. Bands will fit a bit over and under the measurements listed; do not size up or down. You can check band width sizes further down this page.
Our belly bands are sanitary garments and are not exchangeable or returnable.
Tip: If you don't have a tape measure, you can use a piece of string to measure your dog's waist. Place the string around your dog's belly, then measure the string with a ruler. It is wise to have more than one band on hand, so if one is in the wash, your dog won't have the opportunity to mark in the house. All of our Belly Bands are machine washable in cold or warm water, dryable in a medium heat dryer and they are durable.
BOY BAND WIDTHS
Larger sizes or custom widths available upon request. Text us: 602 485 5490

 Size A is for waists 7″-8.5″ and is approximately 2.5″ wide(Size A is a very tiny teacup size. Please measure before ordering.)
 Size B is for waists 9″-11.5″ and is approximately 2.75″ wide
 Size C is for waists 12″-14.5″ and is approximately 3.75″ wide
 Size D is for waists 15″-16.5″ and is approximately 4.75″ wide
 Size E is for waists 17″-19.5″ and is approximately 5.75″ wide
 Size F is for waists 20″-22.5″ and is approximately 6.75″ wide
 Size G is for waists 23″-25.5″ and is approximately 7.25″ wide
 Size H is for waists 26″-28.5″ and is approximately 7.25″ wide
 Size I is for waists 29″-31.5″ and is approximately 8.25″ wide
 Size Ix is for waists 32″-35″ and is approximately 9″ wide
Boy Band Options
NON-ELASTIC BOY BELLY BANDS
Our ORIGINAL Boy Belly Bands have a vibrant, top quality, high thread count cotton fabric outside, in your choice of colors and patterns.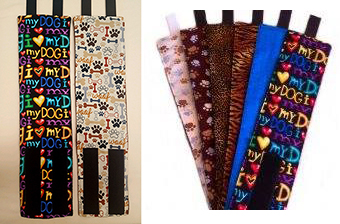 Inside is a soft, breathable high quality anti-pill fleece (in complimentary fun solids and prints) that wash up soft and good as new time after time. Quality materials are so important for comfort and long wear, and only use the best of the best. All seams are securely stitched inside and out. Our bands have Velcro fasteners for an adjustable fit and easy on – easy off, and they don't have any exposed sticky Velcro when in use. Simply place an inexpensive, disposable maxi-pad or poise pad onto the center of the Band to quickly wick away urine and keep the skin clean, sanitary and dry, and change as needed. Our customers tell us over and over that they are the best quality belly bands available!
SUPER BAND OPTION WITH WATERPROOF LINER AND ABSORBENT PAD
We add a soft, comfortable, absorbent multi-layer center pad sewn inside the center of the band, between the cotton and fleece materials. (You won't see the pad; it's covered and sewn in between the cotton and fleece layers.) Completely washable. Although we recommend the use of a disposable sanitary pad with all belly bands to keep the band clean and dry, our customers who don't want to use the Disposable pads LOVE this addition! Pad and liner are non-removable and fully washable. You can also lay a disposable pad in this type of belly band.
Ratings & Reviews

Write a review